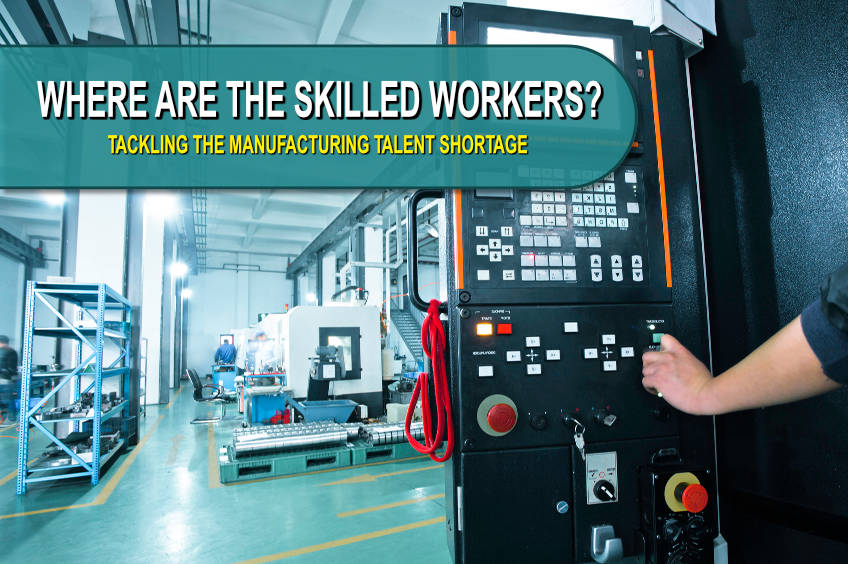 ⏱ Reading Time:
4
minutes
The Talent Acquisition Problem Didn't Start with the Pandemic
Where is the manufacturing talent? At the moment, blaming the pandemic has become an easy scapegoat in claiming that there are no people sending in their resumes and sitting down for interviews. Yet the manufacturing talent shortage has been going on long before 2020.
The pandemic did exacerbate the ongoing issue, leading to $1.4 million manufacturing jobs being lost at the start of the globally spread disease and a potential of 2.1 million jobs being lost by 2030, according to a study conducted by the Manufacturing Institute and Deloitte.
Manufacturers are reporting that it has become 36% tougher to find talent since 2018.  Finding talent isn't the only issue. Retaining them can be just as tough. One trillion dollars. That's approximately how much money U.S. businesses lose each year to employee turnover.
Employee Turnover and Talent Management in Manufacturing Industry
On average, the cost to replace an employee ranges from 1.5 to 2 times the employee's annual salary. But, the cost runs much deeper than what is recorded on the organization's profit and loss statement.
Losing your top talent means a loss in productivity. It means losing the problem-solving skills and knowledge they picked up through hands-on experience. Additionally, the loss negatively impacts team morale and, for some companies, customer relationships.
Why Do Workers Leave?
The Association for Manufacturing Excellence reports that most manufacturing companies have a churn rate of approximately 37%. Since the overall average U.S. turnover rate is 2.7%, one thing is evident – the manufacturing industry is facing an employee retention crisis.
A recent Gallup poll revealed that 51% of departing employees say that, in the three months prior to them leaving, leadership had not spoken with them regarding their future with the company or job satisfaction.
Consider that for a moment. In three months, they were not asked if they were happy at their jobs. They were not asked about their professional or personal goals. They were not recognized or applauded for their efforts. It makes sense that they would leave. Why invest in an employer who is not invested in you?
Talent Acquisition in Manufacturing Industry
Attracting and Keeping Workers – Strategies That Work
While these numbers are disheartening, there is good news. There are strategies you can employ to both attract talent and reduce your organization's turnover rate.
To learn more about how manufacturing companies can attract and retain the industry's top talent, we spoke with Lisa Ryan, award-winning speaker and author of Manufacturing Engagement: 98 Proven Strategies to Attract and Retain Your Industry's Top Talent. 
Lisa's programs take a unique focus on positive workplace culture, employee acquisition, and many other manufacturing complexities that are faced today.
So, how do you improve your organization's culture? It starts with putting engagement at the center and recognizing that each employee is human, with their own unique needs.
To help manufacturing companies foster an engaging workplace culture, Lisa came up with an appropriately-named acronym – THANKS:
Trust. Your employees need to know that they can trust you. They might not always like or agree with everything you have to say. But, as long as they know that you have their back, and you're being transparent with them, they're much more likely to trust you.
Help. Growth opportunities are the number one reason why people change jobs today. Invest in your employees, both professionally and personally. Help them to be better versions of themselves today than they were yesterday. "The money you invest in training is pennies compared to what it costs in turnover when they leave. Nobody ever quit for too much training," says Ryan.
Appreciate. Appreciate, acknowledge, and applaud their efforts. In the manufacturing industry, quality and timing are critical. We're so focused on what could go wrong, that we forget to acknowledge when things run smoothly. Take a moment to celebrate victories and acknowledge your employees' achievements.
Navigating work-life integration. Remember, your employees have a life outside of work. They have spouses, children, and aging parents that they are worried about. In a culture where we are on 24/7, it's important that we help our workforce achieve work-life balance.
Know your people. Get to know your employees on a personal level. Have meaningful conversations with them. What matters most to them? What are their dreams or hobbies? Are they cat or dog people? Get to know them as individuals, not just by the name sewn on their shirts.
Serving a greater mission. Employees want to feel like they are a part of something bigger than themselves. They aren't just making a spring or a fastener; they are making a piece of hospital equipment that will help save lives. By changing the narrative, you show them that they are making a difference in the world.
The Role Of Technology in Talent Recruitment and Retention
As you implement Ryan's recommendations, keep in mind that your efforts will be more successful with the use of the latest technology. Technology and automation are effective tools for talent acquisition in the manufacturing industry. Automation of processes can break through the stereotypes of this industry, showing younger employees how exciting these jobs can be for them. Companies that are more focused on keeping past redundant work processes, will lose talent to those who use newer technologies and processes.
Lisa states, "Start automating the plant to bring in new recruits who will be excited about the new job. Pick the one job that everyone hates doing and automate it. When automating it, you bring in a new employee with a greater skill level."
In an industry where employee retention is seemingly an uphill battle, it is critical that your organization gains a competitive advantage. Manufacturing companies that put the employee experience at the forefront reduce their turnover rates to as low as 7.2%. When employees stay with the company long-term, you win more than just the talent competition.
When getting to the heart of the matter, creating a basic human connection with employees, and automating some processes can allow manufactures to be successful at their employee retention endeavors. It's also always important to build these relationships between tenured workers and new recruits to make them feel relevant and valued no matter their ages. By recognizing your employees and their work, while using automation in processes, you can change the perception of how people view manufacturing. In doing so, you'll become a pro at talent acquisition & management in the manufacturing industry.
Contact us to schedule a free consultation.