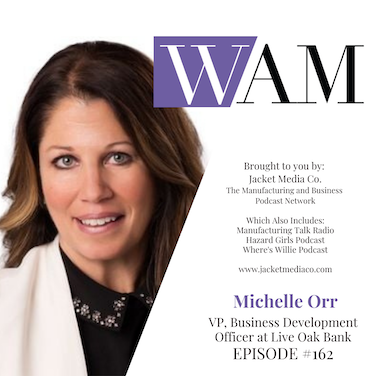 Today on the WAM podcast, Fran welcomes Michelle Orr of Live Oak Bank, the number one SBA lender in the nation for the past three years in a row and a great option for financing M&A deals. Michelle comes to Live Oak with 22 years of experience in SBA lending. In the last 11 years alone, she has closed over $185 million in SBA loans. She is one of the best in the industry and, today, she is going to tackle some of your many questions on the subject. Find out why Live Oak is different from other SBA lenders, what being a preferred lender nationwide means for your loan, and how Live Oak's limits on goodwill differ from other banks. Hear about what you can expect when applying for an SBA loan, what funds you should have beyond a down payment before applying, and how you can prepare for the due diligence process. Given that this is such a good time to acquire, make sure to tune in today!
Meet Our Guest, Michelle Orr
With over two decades of small business lending experience, Michelle Orr joined the Live Oak team in 2021 as Vice President of general lending. She brings a wealth of knowledge and experience from her previous role with one of the leading SBA lenders in the country. Over the past 11 years of her career, Michelle has originated and closed over $185 million of SBA 7(a) and 504 loans, specializing in commercial real estate, business acquisitions, partner buyouts, expansion and new construction. She's deeply passionate about delivering an exceptional lending experience for her customers and is committed to serving as a reliable guide throughout the entire process. Michelle graduated from Johnson & Wales University with an associate degree in marketing. She lives in Monroe, CT with her husband and daughter and serves the entire Connecticut/New York region.