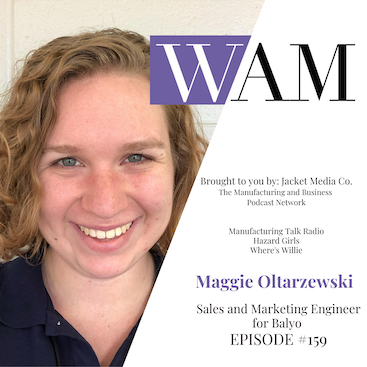 Today on the WAM podcast, Fran welcomes Maggie Oltarzewski, the Sales and Marketing Engineer for Balyo AGV Systems. Balyo is a company doing some truly incredible things in the tech industry, having a unique intelligence technology that turns standard electric trucks into standalone intelligent robots. Maggie talks about the partnerships that they've established for the manufacturing of their robots, as well as the autonomous transformation that's currently going on and how it's allowing companies to scale at a faster rate.
Maggie also talks about when she developed an interest in robotics, and how that transformed into the current position she is. She has spent several years on the installation of things as a field engineer throughout the US, but is now working to develop new products on the pre-sales side of things in her current role of Sales and Marketing Engineer. She also talks about the synergy of the two roles and how they're working to provide powerful solutions in the robotics space. Tune in today to hear her incredible story!
Meet Our Guest, Maggie Oltarzewski
Maggie Oltarzewski is the Sales and Marketing Engineer for Balyo in the US. After spending several years installing Balyo's AGV systems, she uses the knowledge gained in the field to help develop projects in the pre-sales stage.
Back To WAM Podcasts