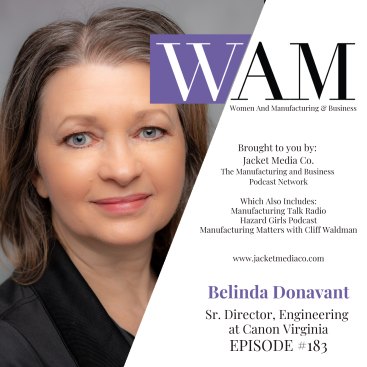 In today's episode of Women in Manufacturing, Frances Brunelle speaks with Belinda Donavant, Senior Director of Engineering for Canon Virginia, Inc. Since opening its doors in 1985, Canon has made substantial capital investments of over $700 million in five facilities, totaling two million square feet and employing over 2,000 people. Belinda has an electrical engineering background and has held a variety of different positions with Canon, including in the product engineering, business development, and industrial engineering and innovation departments, some of which we dive into in today's episode. We also touch on the criteria that Canon Virginia Inc. looks for in its suppliers, how those correlate with the qualities of a successful manufacturing business, and how the engineering and manufacturing fields can attract more women, and Belinda shares her advice for young women in the industry: play to your strengths! Tune in today to hear some valuable insights and so much more from an inspiring leader who is passionate about manufacturing!
Meet Our Guest, Belinda Donavant 
I have a passion for manufacturing that continues to grow even after several decades in the industry.  I love the energy, excitement, creativity, teamwork, standardization, and that, at the end of the day, I can see what was accomplished. I'm an advocate for women in the manufacturing industry, and celebrate a diversity of ideas to advance the best solutions.
My professional background:  I graduated from Old Dominion University with a Bachelor of Science degree in Electrical Engineering.  While at ODU I did an internship with a Navy Support organization in Norfolk, VA, and directly after graduation, began working with Canon Virginia, Inc.  In my career with Canon, I've had a wonderful variety of jobs:  Supplier and Product Engineering which includes working with Canon suppliers, qualifying the components they produce, and providing the manufacturing engineering expertise at Canon to commercialize and manufacture the final products.  I've worked in our Business Development division as a technical interface between Canon and our customers, and I've lead our Industrial Engineering and Innovation division for process and efficiency improvements within Canon.  I've been in charge of several manufacturing areas to achieve the direct, first line access to a company's value, and I've returned to Product Engineering where I started my career to lead the division in support of commercializing new products to include consumer and industrial products as well as medical devices.
Back To WAM Podcasts