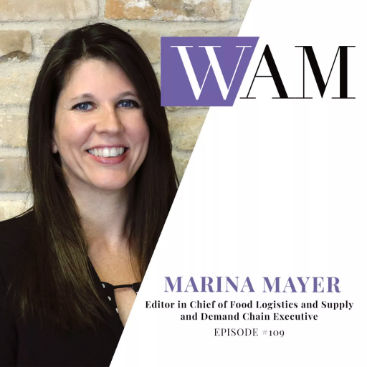 Frances Brunelle of 
 Accelerated Manufacturing Brokers hosts the WAM podcast and interviews Marina Mayer, the Editor-in-Chief of two of the foremost supply chain publications, Food Logistics and Supply and Demand Chain Executive which both draw on expert industry knowledge to provide readers with an impressive variety of content. We kick off this episode by learning more about Food Logistics and its mission to help businesses in the industry. With a wide-ranging audience of over 26,000, it is the only magazine dedicated to the global food cold chain. From there, we find out more about COVID-19 pandemic's effect on the food supply chain. Marina and her team have had to work hard to quell fears around the issue. There has been slowing in parts of the supply chain, but it has by no means halted. From there, we turn our attention to the other publication Marina oversees Supply and Demand Chain Executive and the work it does. We also learn more about their Facebook live events along with the variety of awards the publications oversees. Finally, we round the show off with Marina sharing her personal experience in the industry, and her advice for women looking to break in as well. Be sure to tune in today!
Meet Our Guest, Marina Mayer
Marina Mayer is an experienced B2B journalist with 12-plus years in the food and beverage space. Prior to joining Food Logistics and Supply and Demand Chain Executive on Jan. 6, 2020, she spent the last 8 years as editor-in-chief of Refrigerated & Frozen Foods magazine, a B2B publication that covered everything from packaging, food safety, new product development and market trends to energy management solutions, supply chain and logistics and more. During her time at Refrigerated & Frozen Foods, Mayer increased the number of e-newsletter subscribers by 52% over a 4-year period, while increasing deployment circulation from monthly to weekly. She increased website traffic by over 500% over a 4-year period, and won an internal company-wide SEO contest for the most backlinks to her brand's website. Mayer also developed the Best New Retail Products contest, which in its 7th year, continued to rake in over 3,000% additional website traffic during the time the contest was live online.
Before joining Refrigerated & Frozen Foods, Mayer served as managing editor and executive editor of Snack Food & Wholesale Bakery and Dairy Foods magazines (both sister publications) for 3 years, where she was named an ASBPE Young Leader from the American Society of Business Publication Editors scholarship program. During this time, she also spearheaded the company-wide editorial internship program with Northwestern University's Medill School of Journalism to bring in summer interns to help with overflow of work while learning the ropes of B2B publishing. To date, two of those interns still remain with the company as full-time editors.
Back To WAM Podcasts