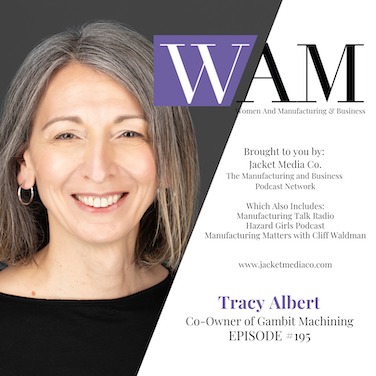 In today's episode of Women and Manufacturing, Frances Brunelle speaks with Tracy Albert, Co-Owner and Accounting Manager of Gambit Machining in Alberta, Canada, which specializes in small, precision, tight tolerance parts for critical use in no-fail industries, including instrumentation, energy, defense, medical, transportation, and more. Tracy joined Gambit in 2002 in an entry-level accounting role. After earning her Bachelor's Degree in Applied Business Administration-Accounting from the Northern Alberta Institute of Technology (NAIT), she took on more responsibility at the company and began to make valuable contributions to the process of continual improvement and, as a result, she became part of the ownership group in 2010. Tuning in, you'll find out how Tracy's portfolio has grown over the past 20 years to include payroll, HR, health and safety, marketing, and business development, and she shares what influenced her decision to lead with candor and integrity, despite some of the challenges that come with being the only woman in the boardroom. We also touch on the power of support, attracting and retaining talent, and much more, so make sure not to miss today's conversation with Tracy Albert!
Meet Our Guest, Tracy Albert
Tracy Albert is a co-owner of Gambit Machining, a world-class small precision parts machine shop located in Edmonton, Alberta.  Gambit Machining has been operating since 1961 as a precision component manufacturer serving the Energy, Industrial Equipment, Transportation, Sporting Goods, Medical, and Defense industries.  As part of Gambit's ownership group, Tracy's responsibilities include Accounting, Finance, Payroll, Human Resources, IT, Health & Safety, and Marketing.
Tracy joined the company in 2002 filling an entry-level accounting role.  Shortly after joining Gambit, Tracy completed her Accounting Degree from the Northern Alberta Institute of Technology. As a result of her penchant for continual improvement, ability to take on more responsibility, and desire to make valuable contributions to various parts of the business, Tracy became part of the ownership group in 2010.
Tracy's leadership style is one of integrity, candor, and accountability. Tracy is an innately curious problem solver. While trained as an accountant, Tracy loves the variety and challenge her broad scope of responsibility provides, allowing her to influence the Gambit brand, corporate direction, and company culture.
Back To WAM Podcasts