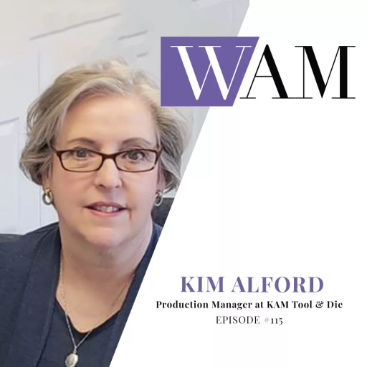 Frances Brunelle of 
 Accelerated Manufacturing Brokers hosts the WAM podcast and interviews, Kim Alford who is the production manager of KAM Tool & Die of B-Square Precision Group located in Zebulon, North Carolina. Having been a part of this prestigious company since it's founding in 1995, Kim brings extensive, time-tested expertise in production planning, human resources, and accounting to the manufacturing space. Kim offers valuable insight into not only the production side of manufacturing but also the financial side of it. She also explains the process of being with the company from the time it started as a small company within a garage and only 2 machines, to becoming one of the biggest names in manufacturing and how to maintain integrity and quality through every stage of growth.
Kim also discusses how KAM Tool & Die was acquired by B-Square Precision Group, and how investing in your employees and charting a path forward with the owners and employees can lead to improvements and long-term growth. She also discusses how vital it is to train people properly and keep good employees feeling fulfilled in their roles so that they can contribute their best talents to be apart of the company's vision and take pride in their work. Kim also discusses the pillars of KAM Tool & Die, and how those values shape the culture and success of the company. Learn about the incredible inner workings of KAM Tool & Die and the insightful advice that Kim Alford has to share with the listeners of the WAM Podcast!
Meet Your Guest, Kim Alford
Kim has been a part of KAM Tool & Die since its founding in 1995. At that time, she brought to the company 9 years of experience in Production Planning and 5 years of experience in Accounting while working at Square D Company. Through the years Kim has served as Business Manager and in 2019 was promoted to Production Manager. Her responsibilities include managing Production while also overseeing Human Resources and Financial Management.
Back To WAM Podcasts