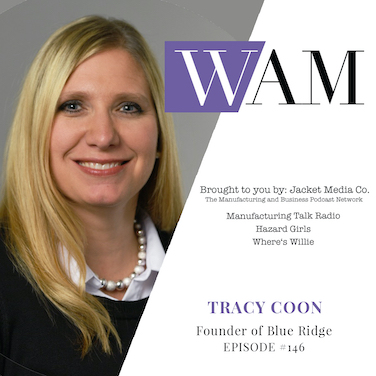 There are so many elements that go into the operationalizing of a manufacturing company. One of the biggest challenges experienced by manufacturing companies is "making sure they have the right product in the right place at the right time." If you don't have this under control it can result in a waste of time and money, but luckily there is a company that has the solution to this problem, and most of your other problems too.  Today on the WAM podcast, Frances Brunelle welcomes guest, Tracy Coon from Blue Ridge Global. Tracy explains how Blue Ridge, her software company, helps manufacturing companies optimize their processes, understand and utilize their data, and manage multiple locations. Tracy also talks us through one of her favorite real-world examples of how the Blue Ridge systems improved the processes of a particular company and the positive changes that the company saw as a result. If you think your company's processes need a revamp, you have come to the right place!
Meet Our Guest, Tracy Coon
Tracy Coon, Education and LifeLine Consultant with Blue Ridge Global runs customer on-boarding and education, as well as continued Lifeline and consulting of Supply Chain Planning (SCP), Integrated Business Planning (IBP), and Supply Chain Analytics (SCA). She has lived in Supply Chain for over 27 years including working as Director of Purchasing at Tree of Life Northeast and as Champion/Buyer at Associated Food Stores, Salt Lake City. Supply Chain is Tracy's first passion with a close second in defying gravity one rock at a time in her Jeep with her family and Jeep club.
Back To WAM Podcasts