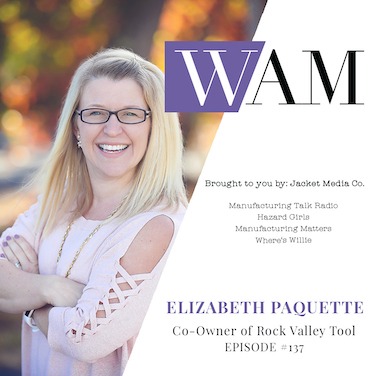 Seeking through acquisition what you do not have in-house is a strategy implemented by our guest and her company to see growth. With acquisition comes diversification, which can help companies through things like global pandemics, and also provides a new customer base, and ultimately opportunities to expand your offerings, and thus quickening turnaround and increasing margins. Today on the WAM podcast we welcome to the show, Elizabeth Paquette. Liz is the Co-owner of Rock Valley Tool (RVT), a 50-year-old manufacturing company in Easthampton, Massachusetts. Liz left a special education career to acquire RVT, with her husband, who is the operations manager. Since their acquisition in 2013, they have grown the company by over 50% and they have acquired another manufacturing company. They continue to seek growth through acquisition. Tune in today as we hear straight from Liz all about how she transitioned to manufacturing, how they are working with their community to bridge skill gaps, implementing high school co-op programs, how diversification has helped her company during COVID-19, and much, much more!
Meet Our Guest, Elizabeth Paquette
RVT has been in business for over 50 years and is located in a small city in MA. In 2013, I left a Special Education Administrator position to purchase RVT. I am the majority stakeholder but do co-own the business with my husband who is the Operations Manager. Since purchasing the company, we have grown the company over 50% and have since purchased a second machine shop and continue to look at options to purchase another.
Back To WAM Podcasts