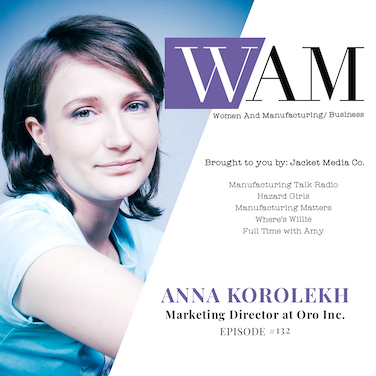 Today on the WAM podcast Frances Brunelle of 
Accelerated Manufacturing Brokers welcomes, Marketing Director Anna Korolekh of Oro Inc. to explore the incredible opportunities that arise from taking your business online. We open our conversation by unpacking Oro's product offerings and how they help companies to digitize their business. After touching on Oro's origins and the unique challenges faced by the B2B market, we dive into the important role that Client Relationship Management Systems — or CRMs — play when engaging with customers. From discussing how CRMs increase the efficiency of sales teams, we chat about how eCommerce can unlock quick and exponential business scaling. In the case study that Anna shares, a company went from 1,000 to 45,000 customers from taking their sales online. While reflecting on the changing nature of sales, we talk about how people are increasingly solving their problems through internet searches, highlighting the need to go online. Near the end of the episode, Anna provides listeners with more details on why Oro's services are so unique. Tune in to hear more about how going digital is becoming a manufacturing standard.
Meet Our Guest, Anna Korolekh 
Anna is in online marketing since 2009, started her career with content-writing and developing link-building strategies. In 2010 was hired as an SEO analyst for Promodo marketing agency. By 2012 she extended her skillset beyond SEM becoming a digital marketing manager of the International department at Promodo. In 2014-2016 Anna lead marketing efforts at PSD2HTML web development company until she finally joined Oro Inc. family in November 2016 to lead digital promotion of Oro key products: OroCommerce and OroCRM.
Back To WAM Podcasts