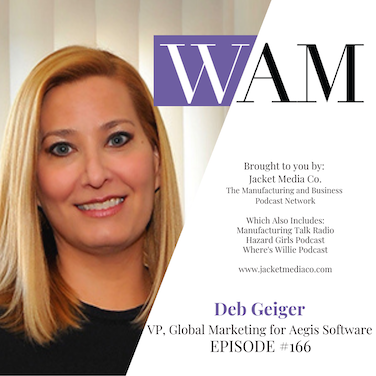 Today on the WAM podcast, Fran welcomes Deb Geiger, the VP of global marketing at Aegis Software. Founded in 1997 by two manufacturing engineers, Aegis has over 20 years of experience providing world-class software to customers around the globe, spanning more than 2200 factories sites across the electronics, medical, automotive, military, and aerospace industries. Today Deb introduces us to the truly unique and highly adaptive manufacturing operations management platform that Aegis supplies. Through their FactoryLogix system, they provide industry 4.0 capabilities out of the box for manufacturers of all sizes, without requiring armies of engineers to customize that system for agility and adaptability. Listening in, you'll hear how this software differs from an ERP system, the types of data their ontological data system produces, and how it contextualizes data in a meaningful way. Find out how the right software can help your company with regulatory compliance, greatly minimize the impact of a recall, enable a high level of personalization for the demands of your customers, and greatly enhance workforce productivity.
Meet Our Guest, Deb Geiger
Deb has more than twenty-five years of extensive marketing & management experience spanning multiple industries. In her current role as VP, Global Marketing with Aegis Software, she oversees Aegis' marketing and communications and is responsible for creating awareness and driving demand. Before joining Aegis Software, she worked with Astea International for 12 years, responsible for global marketing in the aftermarket support/service management industry. Prior to Astea, she worked for Draeger Medical (a Draeger and Siemens Company), responsible for global strategic and tactical marketing for acute point-of-care software solutions. She has also managed a marketing consulting company, working with clients in the high-tech sector, providing product & services marketing. Deb has also held sales & marketing positions with Lever Brothers and ACNielsen. She has a B.S. degree in Marketing, Indiana University of Pennsylvania, and an M.S. degree in Information Systems, Drexel University.
Back To WAM Podcasts