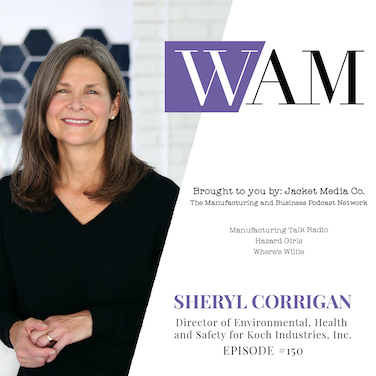 As companies grow from national to international, private to public, so does their tendency to apply increased layers of bureaucracy and rigid hierarchical structures, often accompanied by a death knell for innovation. In today's WAM Podcast episode, Frances Brunelle welcomes our exciting guest, Sheryl Corrigan, the Director of Environmental Health and Safety at Koch Industries. Sheryl speaks about what sets their company apart from other companies of its size. Sheryl explains how Koch's founding principles of experimentation and entrepreneurship continue to guide the company in pursuing disruptive technologies as well as the competitive advantage that comes with manufacturing. Listeners can expect to hear Sheryl break down exactly how Koch empowers its employees and provide them with opportunities to share their insights and rise through the ranks. We also discuss how disruption can be a disaster, additive manufacturing, and why Sheryl prefers to do business with private companies. For all this and more, join us today!
Meet Our Guest, Sheryl Corrigan
Sheryl Corrigan is director of environmental, health and safety for Koch Industries, Inc., providing oversight of Koch companies' compliance with regulations and internal policy, and tracking and ensuring follow-up on emerging issues. Ms. Corrigan also serves on the Board of Directors for Guardian Industries, a Koch Industries subsidiary. Prior to assuming this role, Ms. Corrigan was Senior Vice President of Environmental, Health and Safety for Flint Hills Resources, LLC; a subsidiary of Koch Industries.
Before joining Koch, Ms. Corrigan was commissioner of the Minnesota Pollution Control Agency, advising the governor and helping set the strategic direction for the state on environmental matters. She has also worked for 3M in a number of positions focusing on environmental, health and safety operational excellence.
Ms. Corrigan received a bachelor's degree in geology from the University of Minnesota Institute of Technology.
Based in Wichita, Kansas, Koch Industries, Inc. is one of the largest private companies in America, with estimated annual revenues as high as $110 billion, according to Forbes. It owns a diverse group of companies involved in refining, chemicals, and biofuels; forest and consumer products; fertilizers; polymers and fibers; process and pollution control systems; electronics, software and data analytics; minerals; glass; automotive components; ranching; commodity trading; and investments. Since 2003, Koch companies have invested nearly $120 billion in growth and improvements. With a presence in more than 70 countries, Koch companies employ 130,000 people worldwide, with about 65,000 of those in the United States. From January 2009 to present, Koch companies have earned more than 1,300 awards for safety, environmental excellence, community stewardship, innovation, and customer service. For more news and information, visit www.KOCHind.com.
Back To WAM Podcasts