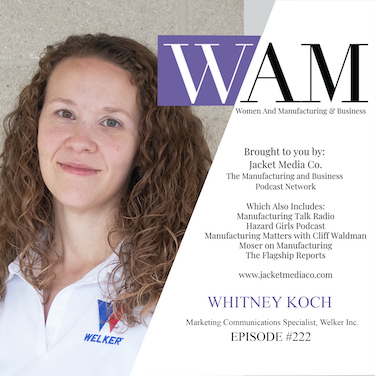 On this episode of the WAM Podcast, Fran welcomes Whitney Koch, Marketing Communications Specialist with Welker Inc., in Sugarland, Texas. Whitney shares with us how she transitioned from a high school teacher to writing technical copy and finally managing the digital marketing efforts for a 3rd generation manufacturing company. Whitney explains how small to medium-sized companies can handle their digital marketing in-house, including the various platforms she uses to get the job done.
Meet Our Guest, Whitney Koch
Whitney Koch is a Marketing Communications Specialist at Welker, Inc., a family-owned manufacturing company in Sugar Land, TX. A graduate of Penn State University, Whitney taught German for 4 years before getting her start at Welker–and in manufacturing–as a technical writer. After 5 years of writing instruction manuals, she moved into her marketing role, which involves content creation, product marketing, internal communications, social media management, and more. Her passions are building brand awareness, growing communities, and supporting American manufacturing through social media. She is a proud boy mom, cat person, and neurodivergent.
Back To WAM Podcasts