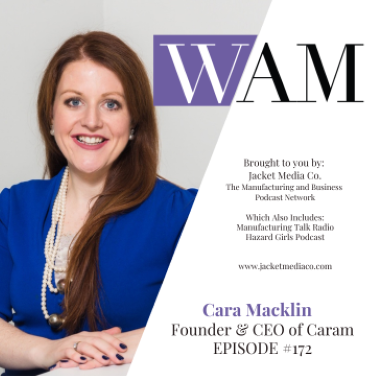 In light of the current climate and the effects of the COVID pandemic, the entrepreneurs of today and going forward, are going to need to have a very different skill set to what was required even five years ago. Today on the WAM podcast, Fran talks to Cara Macklin, a business coach and the founder and CEO of Caram, a success coaching firm. Cara is a serial entrepreneur and a leading businesswoman in Northern Ireland. She was the director for 15 years of a multi-million, and multi-award-winning hospitality and healthcare group, growing it from three businesses with only 200 employees to seven businesses with over 600 employees. She is renowned for helping entrepreneurs to achieve meaningful change and sustained growth. Cara believes that creating an innovative culture is key to the success of businesses in this current time. In this episode, she explains that people are no longer happy to sit on the sidelines and be told what to do, they want to be involved in the progress and success of a business and that the most important thing for the happiness of people is the leadership at every level. Listening in you'll hear what innovative culture is, as well as how to engage people properly and bring them along with you as a leader. Tune in today to find out what an entrepreneur should be doing to create a culture that makes people want to stay!
Meet Our Guest, Cara Macklin
As founder of Caram, I have created the innovative scaling system for multi-million entrepreneurs combining my entrepreneurial expertise and unique purpose of creative thinking. To achieve their scaling goals, future-proof their leadership & create meaningful impact, this method only uses techniques proven to work.
I am a serial entrepreneur and one of the leading business women in Northern Ireland. I was the director for 15 years of a multi-million and multi-award winning hospitality and healthcare group, growing it from 3 businesses with 200 employees to 7 businesses with over 600 employees under my leadership. I completely transformed and disrupted the healthcare industry in Ireland when I created the first lifestyle care home for elderly people. As a leader, I understand the challenges that entrepreneurs face and I now use my experiences to help them achieve greater success and create meaningful change.
I have been recognized for my work, being named an IoD finalist for Director of Innovation, NI Top 40 under 40, Women in Business Young Businesswoman of the Year and Women in Business Outstanding Innovation. I have been featured on dozens of podcasts and media including, the BBC, The Shark Tank's Kevin Harrington and Seth Green's show, 'Sharkpreneur,' UTV, Qradio, IIBN podcast, TEDx circle, and am to be featured on Fox TV in 2022.
#172 Creating an Innovative Culture that will Make People Stay with Cara Macklin
Back To WAM Podcasts