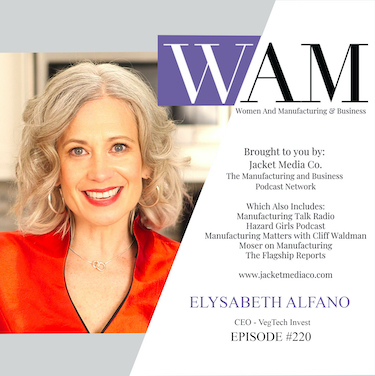 Today, on the Women and Manufacturing Podcast,  Fran Brunelle sits down with Elysabeth Alfano, CEO of VegTech Invest, a fund that invests in alternative proteins and the food revolution. VegTech is the creator and advisor to the world's only plant-based innovation ETF.
Elysabeth is a plant-based expert who speaks worldwide about the need for change in the global food supply system, including speaking recently at the UN Global Leaders Compact Summit.
On today's episode, Fran and Elysabeth discuss the need for change in the global food supply system to address global population growth. Elysabeth explains in detail how the way we use our resources to create food is inefficient. 77% of our agricultural land is used for animals to graze and to grow crops to feed those animals. This 77% returns only 18% of our calories. On top of that 42% of our clean water supply is used to grow crops for and as drinking water for those same animals.  As we move forward with a rapidly growing population, these inefficiencies are not sustainable.
Elysabeth discusses alternatives for food production and how relying less on animals and more on cleaner, greener, more efficient methods of producing the foods we need to meet population growth in the very near future. Elysabeth walks us through the process and benefits of cultivated or lab-grown meat and precision fermentation to grow cheese without involving animals. Elysabeth goes into detail on how these technologies produce food products that not only meet our nutritional and taste requirements but also offer the opportunity to make sure enough food can be produced to meet current and future requirements. Bringing in these new choices to augment, not replace, completely our reliance on animal products is the key to a much brighter future for everyone.
Meet Our Guest, Elysabeth Alfano
Elysabeth Alfano is the CEO of VegTech™ Invest, the advisor to the Plant-based Innovation & Climate ETF, EATV.  With EATV, VegTech™ Invest has created a completely new impact asset class: plant-based innovation and alternative in the capital markets.   The company has also launched the industry benchmark index, VegTech™ Plant-based Innovation & Alternative Proteins Index.
Elysabeth is a plant-based industry expert and speaks globally on the intersection of sustainability and our global food supply system, including recently at the U.N. Global Leaders Compact Summit.
Having started her career at Kellogg's working on Special K and Frosted Mini-Wheats, Elysabeth is the CEO of Plant Powered Consulting, and advises multinationals and C-Suite Executives on the industry landscape, direction and whitespaces.  Finally, Elysabeth hosts the Plant-based Business Hour, which features the CEOs and thought leaders in the industry.  The Plant-based Business Hour is considered, "The Gold Standard" for those who want to understand, participate in, and capitalize on this secular trend.
Back To WAM Podcasts