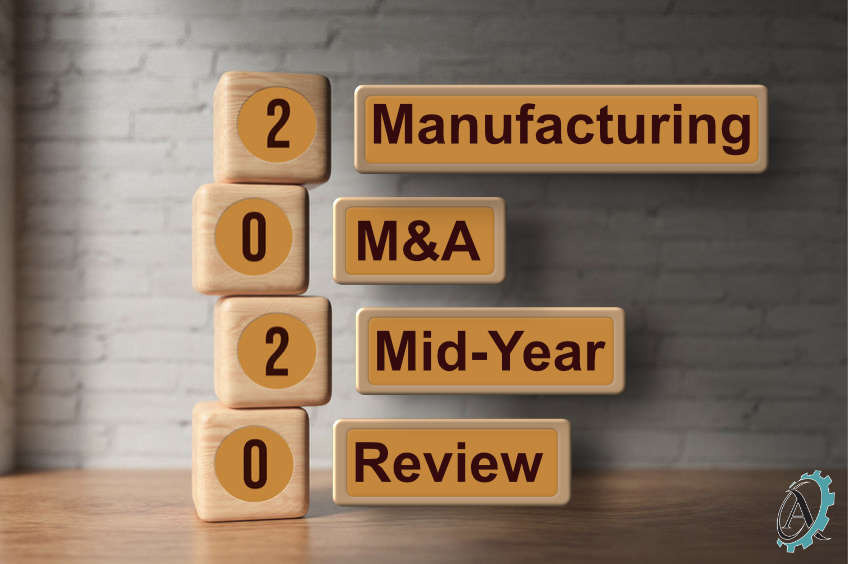 ⏱ Reading Time:
3
minutes
The complication of COVID-19 paired with an election year has created an atmosphere of uncertainty for many manufacturers. On one hand, buyers and sellers are pausing their M&A plans due to COVID's detrimental effects on their businesses and finances. On the other, quality companies on the market now may actually see less competition and have an easier time making a successful sale. As the presidential election draws closer, manufacturing acquisition activity will likely take another pause as buyers and sellers wait to see what changes may be in store for their industry. The Manufacturing M&A 2020 Mid-Year Review continues below. See part one here.
M&A in Screw Machine
Acquisitions wrapping up in early 2020 continued as normal. For some industries, those early deals will make up the majority of M&A closings in 2020. KKSP, a manufacturer of precision machined components including screws, fittings, and valves under Mill Point Capital, made two acquisitions in Q1 and Q2 before the storm. The acquisitions were part of a geographic strategy for KKSP which pushes its expansion into New England.
The first purchase was Prime Engineered Components in Watertown CT, followed shortly by PRO Manufactured Products in Plainfield, CT. Both companies offer services and machined products complementary to KSPP's current offerings. KSPP's expansion into Connecticut will give the Illinois-based platform a strong foothold for their customer base in the northeast.
We currently have listed a company specializing in screw machine, CNC, and plastic injection molding. The distribution of capabilities gives the company multiple revenue buckets as it is a one-stop-shop for multiple services. The company is also the sole manufacturer of a critical part to the electrical industry. A new contract in 2020 will add $816K to sales and $507k to the net. For more information, see our listing page here.
M&A in Pump & Valve
Fluid handling continued to have very strong M&A activity through Q1 before hitting a slowdown according to Pumps & Systems Q1 2020 Fluid Handling Industry M&A Report. January through March saw a good number of deals before states were shut down for COVID precautions. In likely the most notable transaction of the year so far, private equity group Warburg Pincus acquired Sundyne from BC Partners and The Carlyle Group. Sundyne is a Texas-based manufacturer of pumps and compressors. The addition of Sundyne to Warburg Pincus' global portfolio will be beneficial to both parties.
Internationally, Inflexion Private Equity of the United Kingdom reacquired Aspen Pumps from 3i. Inflexion previously owned Aspen from 2007 to 2015, and successfully expanded the company into China and India during that time. The partnership came to a successful close when it was sold to 3i. Now that Inflexion has added Aspen to its active portfolio, both companies are excited to work together once more. The group has its sights set on expanding the mini pump manufacturer into the United States.
Because of past transactions in this sector where we received multiple offers, Accelerated Manufacturing Brokers is currently seeking new clients in the pump and valve space. Pump and valve is one of the most requested sectors from our qualified buyer pool. If you are looking to sell your pump and valve company, please fill out our Seller Registration or reach out to start the process.
M&A in Metal Fabrication
The Fabricator called 2020 "the big rethink" in its 2020 metal fabrication forecast, referring to the need for change in supply change and machine purchases. They could never have predicted the extent to which this supply chain would be affected in 2020. Companies continued to vertically integrate. Toronto-based Canerector Inc., which focuses on investments in metal fabrication and industrial manufacturing, acquired Quality Fabrication in California. Quality Fabrication specializes in sheet metal fabrication and machining and is a one-stop-shop from R&D to shipping. This purchase will give Canerector some ground in California and expand their North American network.
FT, Co. LLC, under Whiterock Capital, acquired Fab-Tech Inc. earlier this year. Fab-Tech, located in Arkansas, manufactures sheet metal components with a wide variety of processes done in-house. This acquisition will complement Whiterock's Precision Metal Manufacturing holding in Colorado which fabricates metal components for the medical and aerospace industries.
Because of our recent transactions in this sector where we received multiple offers, Accelerated Manufacturing Brokers is currently seeking new clients in the metal fabrication space. We have several qualified buyers actively searching for acquisition in metal fabrication. If you are looking to sell your company, please fill out our Seller Registration or reach out to start the process.
We hope you enjoyed reading and following our Manufacturing M&A 2020 Mid-Year Review.  If you have other notable Manufacturing M&A 2020 deals that would be of interest, please provide a review in the comment area below.