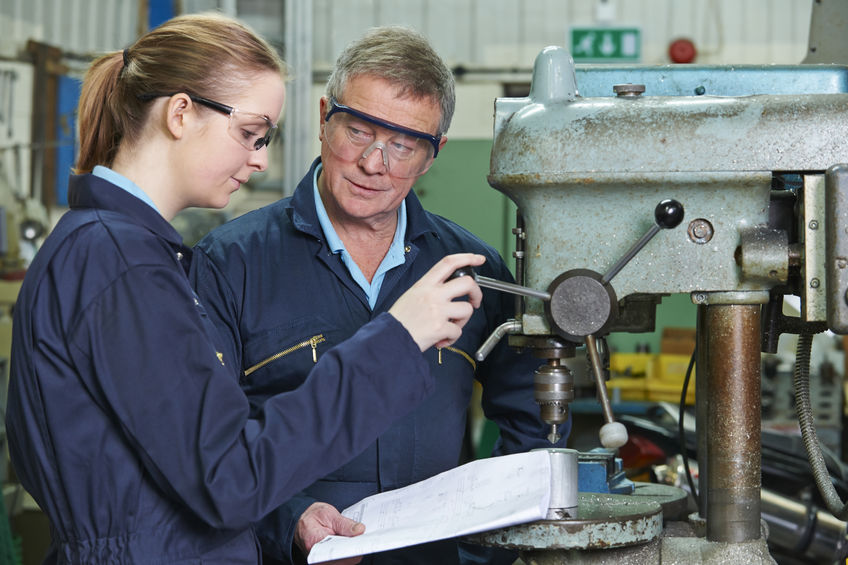 ⏱ Reading Time:
2
minutes
Empowering the Next Generation of Skilled Machinists
In our Manufacturing High-Five Series, we like to give a shout out to manufacturers who are a great example to others in the areas of philanthropy, social
media, web development, and education. This month's featured company is Advanced Machine & Engineering Co. in Rockford, IL-a precision machine tool and metal cutting company fostering the next generation of skilled machinists. AME provides opportunities for young people to learn about careers in manufacturing through apprenticeship programs and frequent outreach. Even the title of their latest blog post "America's Future is in Shop Class" can give you a hint of their passion for young machinists and engineers. We would like to use this column to share some highlights of their contributions to education.
AME has been providing apprenticeships to eager students for nearly two decades since their founder, Willy Goellner, recognized there was a need for strong basic apprentice training. The program has only grown and developed steadily over the years to focus on the need for skilled machinists. AME partnered with Rock River Valley Tooling and Machining Association and Rock Valley College to provide high schoolers with a four-year federally approved program. This is a highly competitive apprenticeship that provides hands-on experience as well as classroom-learning to admitted students. An excerpt from their blog "AME Apprenticeship Program Helps Decrease Manufacturing Skills Gap" outlines their idea behind it all:
"We knew we were going to have a skills gap problem as these older guys started to retire," said Dietmar Goellner, President and CEO of AME. "We had to replace that with new thinking, so we embarked on a comprehensive apprenticeship program."
AME regularly participates in community events to educate kids about manufacturing opportunities and the programs offered by AME. A recent blog post outlined an event they sponsored, "Discover Engineering," at the Discovery Center Museum in Rockford. They provided hands-on activities and introduced middle schoolers to their apprenticeship programs. It is never too early to kick-start an interest in manufacturing and engineering! Their site left us with a striking quote: "To be successful in manufacturing you must invest in people." They certainly put this philosophy into practice, and they do it all on top of maintaining a high-quality precision machine shop!
Ensuring the Continuity of Ownership to the Next Generation
Here at Accelerated, we are in the business of ensuring the continuity of U.S. manufacturing by transitioning ownership to a new generation of entrepreneurs. Advanced Machine & Engineering Co. keeps manufacturing alive by investing in the education and passion of future engineers and skilled machinists. Fantastic job AME; the future of manufacturing is in good hands with your team!
Source: AME Apprentice Program