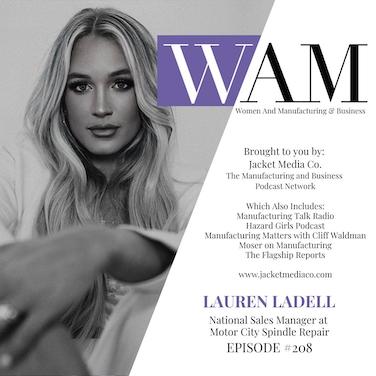 While manufacturers are increasingly engaged in at least some level of social media participation, many are not optimizing it to reach their fullest potential! Today, on the Woman and Manufacturing Podcast,  Fran Brunelle sits down with Lauren LaDell, a.k.a. The Spindle Chick, to talk about why social media matters for manufacturing companies. Lauren is the National Sales Manager at Motor City Spindle Repair, a 25,000 square-foot spindle remanufacturing and ball screw manufacturing facility in Dearborn, Michigan, that specializes in motorized CNC spindle repair for HMC/VMCs, turning centers, grinding machines, and other precision spindle applications. With over 20,000 followers on Instagram and more than 14,000 on TikTok, Lauren sure knows how to leverage the power of social media! In this episode, she outlines some of the benefits manufacturers can get from social media, from LinkedIn to TikTok, and we touch on finding the right balance between relatable and professional content, how to boost your engagement, and more. Lauren also shares her top tips and ideas for the types of content that manufacturers can post, so make sure not to miss this thought-provoking discussion with The Spindle Chick, Lauren LaDell!
Meet Our Guest, Lauren LaDell
My name is Lauren LaDell, or you may know me as the Spindle Chick! I am a National Sales Manager for Motor City Spindle Repair where we specialize in CNC spindle rebuilds. Since beginning my journey in manufacturing four years ago, I realized the lack of female representation in the industry. Through social media, I am an advocate for women in this trade, and bring awareness to the manufacturing industry as a whole.
Video Podcast